As National Volunteer Month comes to an end, the Dunkin' Joy in Childhood Foundation is recognizing a franchisee who embodies the values of giving back and serving our guests beyond our restaurant doors. Based in Knoxville, TN, Dave Baumgartner serves not only as the President of Dunkin' franchisee network Bluemont Group, but also as a Board Member for the Dunkin' Joy in Childhood Foundation.
Dave and his leadership team are strongly committed to supporting their communities and helping those in need. For the third year in a row, Dave and his team participated in the Dunkin' Joy in Childhood Foundation's annual volunteer month which this year is part of Inspire Brand's "Good Citizen's Month." During the month of April, Dunkin' franchisees and crew members volunteered at more than 100 local food banks across the country.
Over four days this April, more than 140 Bluemont Group employees volunteered nearly 300 hours at four food banks across three different states. Dave and his team visited Second Harvest Food Bank East Tennessee (Knoxville, TN), Second Harvest Food Bank Middle Tennessee (Nashville, TN), Chattanooga Area Food Bank (Chattanooga, TN) and Vineyard Family Services (Birmingham, AL), where the teams packed and sorted food to distribute within the community.
To Dave, the Dunkin' Joy in Childhood Foundation allows franchisees to feel first-hand the collective joys of serving one's community and the impact of giving back.
As a former Dunkin' Philanthropist of the Year, Dave and his team also participate in year-round fundraising initiatives and volunteer activities, including hosting blood drives at his restaurants to support blood collection for children's hospitals and volunteering at food banks to assemble take-home meals for children in need. In 2022 alone, the network raised over $100,000 to support local nonprofits.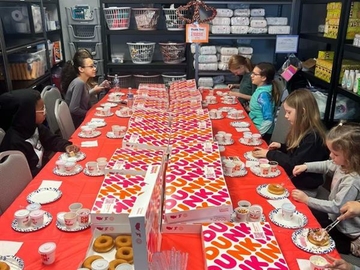 As a contributor to Dunkin' Joy in Childhood Foundation, the Bluemont Group donated over $70,000 to help fund Foundation-related programs, including Dunkin' Iced Coffee Day, Shine Gold and the Foundation's Paper Icon in-store fundraiser. Dave's fundraising efforts also extend beyond the local level. Annually, the Bluemont Group holds a fundraiser with local Rotarian groups to eradicate polio in third-world countries. Since the program's inception in 2018, the fundraiser has raised more than $3 million to benefit End Polio Now – a global nonprofit dedicated to ending the threat of polio.
To learn more about the Bluemont Group, visit BluemontGroup.net and to learn more about the Dunkin' Joy in Childhood Foundation and the work it does to support children across the country, visit bringjoy.org and follow us on Facebook Instagram and LinkedIn!